Tickets now on sale for the 10th Annual Celebration Dinner – April 18, 2020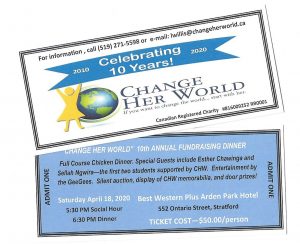 We are pleased to announce that the tickets for our 10th Annual Celebration Dinner on Saturday April 18, 2020 are now available for sale online. Click on Attend  on the Home Page and after the announcement about the dinner you will see where the purchase of tickets can be made. Visa or MasterCard are acceptable forms of payment. Tickets can also be purchased at Blowes Stationary on Wellington Street in downtown Stratford. All tickets must be purchased no later than April 11, 2020.
For those who wish a table of 8 to be reserved at the dinner, please contact Linda Willis at 519.271.5598 or lwillis@changeherworld.ca to make this reservation.
For those travelling from a distance away, you may make a reservation at the hotel for a one or two night stay at the cost of $139.00 plus taxes per night per room. You may contact the hotel at The Best Western Arden Park Hotel to reserve today. Ask to reserve under the event name – Change Her World. Hotel reservations must be made before March 16, 2020 to qualify for this rate.
This will be an inspiring and meaningful event for the whole family! Come and celebrate!