Linda Willis
Chair and Secretary of the Board (

lwillis@changeherworld.ca

)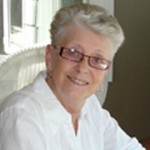 Prior to retiring to Stratford, Linda lived in Chatham and taught elementary school in the Chatham-Kent area for 29 years.
She is a graduate of the University of Windsor and holds a Specialist Certificate in Special Education. Nineteen years of her teaching career involved working with students with special needs. During this time Linda was involved in a number of professional committees advancing both the profession and curriculum development.
Linda has served as a member of the Presbyterian Church in a variety of capacities including elder and Clerk of Session.
While living in Stratford, Linda has been a member of many community organizations. She served for several years as President of Perth Regiment IODE and was a member of the Stratford Rotary Club in addition to volunteering for other organizations.
Linda has written many articles for the local paper around issues pertaining to justice as it relates to women and children. Recently, Linda was recipient of the Women in Community Award in recognition of her outstanding achievement and contributions to the well-being of the community of Stratford.
As Chair of the Board of Directors, Linda brings skillful expertise in the areas of organizational planning and implementation, effective oral and written communication ability and education experience that contributes to her insightful awareness of the academic needs and requirements of the CHANGE HER WORLD beneficiaries and school community personnel. She demonstrates an ardent passion for the rights and equality of all people.
Linda enjoys reading books about the lives of girls and women in the developing world as well as politics and issues around social justice. She also enjoys music, dancing, cooking, travel and spending time with two grandsons who have "changed her world".