Event Calendar
Change Her World 10th Year of Celebration
 
Saturday September 21, 2019 – Community Awareness Event
Meet CHW volunteers in front of Stratford City Hall from 12 noon to 3:00 PM with Free Refreshments!
Thursday October 10, 2019 – You Are Invited!
 

Saturday October 12, 2019 – CHW Movie Matinee at 2 PM
At the Quality Festival Inn in Stratford, CHW will be showing the movie – Queen of Katwe to commemorate the International Day of the Girl. All are invited to attend!
Saturday October 26, 2019 – Community Awareness Event
At the Stratford Festival Market Place from 11 AM – 2 PM, you will be warmly greeted by our CHW volunteers offering free refreshments!
Saturday November 2, 2019 -Annual Chocolate Extravaganza
10 AM to 3 PM at the Army, Navy and Air Force Veterans Hall at 152 Lorne Avenue, Stratford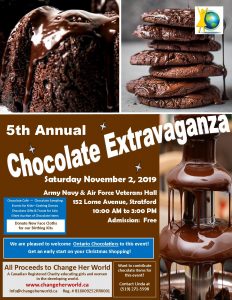 Saturday November 16, 2019 – CHW Community Awareness Event
Meet CHW volunteers at the Stratford Festival Market Place  from 11 AM to 2 PM with Free Refreshments!
Saturday December 14, 2019 – CHW Awareness Event
As we celebrate the Christmas Season, come and meet CHW volunteers at the Stratford Festival Market Place  from 11 AM to 2 PM with Free Refreshments!
Saturday January 11, 2020 – CHW Contributes at "SOUPS ON" Fundraising Event
Look for CHW at this event as we create a great soup using the dried soup mix we send to Malawi for our Nursery School Program.
CHW  Travelling Photo Exhibit
Ten photos have been selected to display the work of CHW over the past 10 years for the public to view.
February 16 to 22, 2020 – St. Andrews Presbyterian Church in Stratford
February 23 to 29, 2020 – Stratford Library
March 1 to 7, 2020 – Huron County Museum 110 North Street, Goderich
March 8 to 14, 2020 – McKay Centre at Knox Presbyterian Church,  9 Victoria Street N., Goderich
March 15 to 21, 2020 – Royal Canadian Legion Branch 8 – 804 Ontario St., Stratford
March 22 to 28, 2020 – Ten Thousand Villages – 65 Heritage Drive, New Hamburg
March 29 to April 4, 2020 – Knox Presbyterian Church – 142 Ontario Street, Stratford
April 5 to 11, 2020 – Festival Market Place in Stratford
Saturday April 18, 2020 – 10th Annual Dinner Celebration
5:30 PM – Social Hour
6:30 PM – Dinner
Best Western Arden Park Hotel
552 Ontario  Street in Stratford
Special entertainment by the GeeGees and an outstanding silent auction along with door prizes will be offered!
Tickets: $50.00 per person
All tickets must be purchased by April 11, 2020.
Advanced reserved tickets for tables of 8 people are now available by calling Linda Willis at (519) 271-5598.
A block of rooms has been held at the Arden Park Hotel at a cost of $139.00 per night. Please call the hotel directly at (519) 275-2936 to make your reservation well in advance of this event.