Event Calendar
Change Her World 10th Year of Celebration
 
CHW  Travelling Photography Exhibit
Ten photos have been selected to display the work of CHW over the past 10 years for the public to view.
February 23 to 29, 2020 – Stratford Library  19 St Andrews Street, Stratford
March 3 to 7, 2020 – Huron County Museum 110 North Street, Goderich
March 9 to 16, 2020 – Stratford Tourism (Limited display in front window) 47 Downie St., Stratford
March 15 to 21, 2020 – Royal Canadian Legion Branch 8 – 804 Ontario St., Stratford
March 29 to April 4, 2020 – Knox Presbyterian Church – 142 Ontario Street, Stratford
April 5 to 11, 2020 – Festival Marketplace Mall in Stratford
April 18, 2020 – 10th Annual Dinner Celebration in Stratford – Best Western Plus Arden Park Hotel (Admission only by ticket to Dinner Event – see below)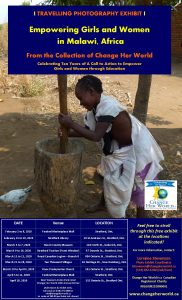 Saturday April 18, 2020 – 10th Annual Dinner Celebration
5:30 PM – Social Hour
6:30 PM – Dinner
Best Western Arden Park Hotel
552 Ontario  Street in Stratford
Special Guests include the first two students that Change Her World supported – Esther Chawinga and Sellah Nguira who will be travelling to Canada from Malawi to attend this celebration dinner. You will be inspired as you hear their stories!
Foot tapping entertainment by the GeeGees and an outstanding silent auction along with door prizes will enhance this evening!
Tickets: $50.00 per person
All tickets must be purchased by April 11, 2020. Tickets are available at Blowes Stationary on Wellington Street in Stratford or online here (see BUY TICKETS BELOW)
Advanced reserved tickets for tables of 8 people are now available by calling Linda Willis at (519) 271-5598 or by email at lwillis@changeherworld.ca
A block of rooms has been held at the Arden Park Hotel at a cost of $139.00 per night. Please call the hotel directly at (519) 275-2936 to make your reservation before March 16, 2020.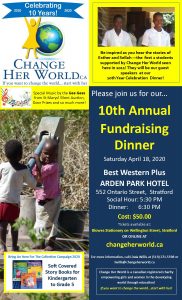 Sunday April 26, 2020 
An Afternoon With Change Her World
Location: St Marys Presbyterian Church 147 Widder St. E., St. Marys, Ontario
Time: 2:00 – 3:30 PM
Cost: Freewill Offering
Light refreshments will be served following this program!
All are invited to this special afternoon as we welcome Esther Chawinga and Sellah Ngwira to our communities of Stratford, St. Marys, Harrington and beyond!
Hosted by:  St Marys Presbyterian Church and Knox Presbyterian Church – Harrington