Event Calendar
Saturday November 5, 2022 — Chocolate Extravaganza Fundraising Event
It is that time of year again when Change Her World invites the community of Stratford and beyond to savour the delights of Chocolate!
Join us on Saturday November 5, 2022 from 10:00 AM to 2:00 PM
Army, Navy and Air Force Hall – 151 Lorne Avenue, Stratford, Ontario
Once again, we are offering our Chocolate Sweet Treat Boxes for sale at a cost of $20.00 per box which must be ordered no later than November 1, 2022 online.  These boxes are filled with chocolate donations from local vendors as well as baked delights prepared with the culinary talents of several Change Her World volunteers. All boxes must be picked up during our Chocolate Extravaganza event from 10 AM – 2 PM.
To order – please fill out the form below.
This year at our Chocolate Extravaganza, we are offering a full range of products for sale including:
Chocolate Mint Candles  – Pick and Choose Chocolate Delights – Chocolate Themed Books and Gifts – Sampling of Chocolate Balsamic Vinaigrette – Change Her World Book Bags and information about the charity!
There will also be a Chocolate Cake Buffet offered with options to purchase a slice a cake!! Who doesn't like chocolate!!??
This is an event the whole family will enjoy! Free admission for all!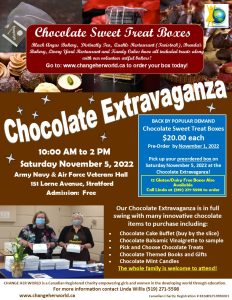 ---
Wednesday June 8, 2022 – 12th Annual Change Her World Dinner
The time has come for us to gather, once again, and celebrate the work of Change Her World in Malawi! Who would have thought in March 2020 that COVID would result in the cancellation of our 10th Annual Celebration but also our 11th Annual Dinner in 2021!
However, despite the pandemic, the work of Change Her World has continued and we have much to applaud as we enjoy a delicious Roast Beef Dinner (Vegetarian Main Course also available) and hear from our directors about the latest developments – especially as it relates to the new library build! It will be a pleasure to welcome our supporters and their family members and friends!
Date: Wednesday June 8, 2022
For this year only – we have moved to June and are also hosting this event mid-week rather than on Saturday.
Time: Social Hour at 5:30 PM    Dinner is served at 6:30 PM
Place: Best Western Arden Park Hotel 552 Ontario Street, Stratford, Ontario
Cost: $50.00 per person
Tickets will be available for sale beginning on  May 7. 2022 at Blowes Stationery at 34 Wellington Street in Stratford (Cheque or cash). Tickets may also be ordered online (credit card) by filling out the form below.
What a great gift for a mother or woman of honour just in time for Mother's Day!
A Silent Auction will feature amazing items including Tickets to the Festival Theatre and much more. Come early to browse the auction offerings and also view the CHW Photo Display.
Poster for 12th Annual Fundraising Dinner June 2022
---
It's Really Happening!
Building Today – Shaping Tomorrow
It is with much excitement that we watch a new library begin to take shape in the community of Chilumba in Northern Malawi.
Several years ago, Change Her World purchased 3.7 acres of land on which to build. In an area of the world, where there are very few books or reading materials, school classes of 70  students or more often share one or two textbooks.  The availability and access to a community library is a gift to children, youth and adults.
Will you join us in constructing this library?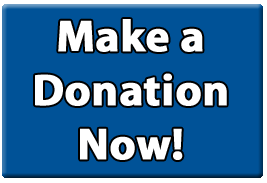 Find out more by clicking on the flyer below!
BUY A BAG – BUILD A LIBRARY!
Help us build a community library through the purchase of this heavy-duty yet stylish tote made of durable 12 oz. cotton canvas!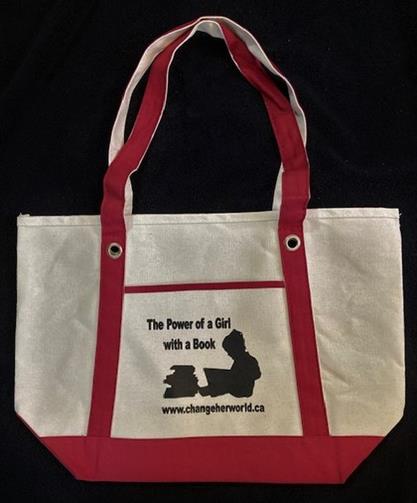 This tote contains a convenient front pocket – perfect for keeping your cell phone within reach and the 68cm (27″) handles make this the ideal bag to sling over your shoulder and bring anywhere. The nautical look of this bag is timeless, with a burgundy coloured trim to accent the natural colour of the bag. A unique logo of a young girl with the words, "The Power of a Girl with a Book" accents this good-sized bag measuring 330 x 520 x 177mm (13″ x 20-1/2″ x 7″). A perfect gift for family and friends or for yourself!
All proceeds go directly to the construction of the community library in Northern Malawi, Africa. Click Here for more information.
For more information: contact Linda Willis at (519) 271-5598 or

lwillis@changeherworld.ca