Nurses Walk/Run for Change Her World!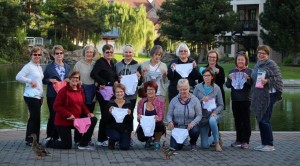 On an early September morning, 20 nurses participated in a walk/run  in Kelowna, BC to raise funds for Change Her World.
They had gathered to celebrate their 45th Nursing Class Reunion – all having trained at Regina General Hospital in Saskatchewan.
Donna Milbrandt, the Mid-west Volunteer Coordinator for CHW had made the suggestion to the group when they arrived. In total, $315.00 were raised! The nurses were also asked to donated underwear. In the developing world, if a girl is wearing underwear (pants and bra) she is less likely to be sexually  assaulted. To date, more than 12,000 pairs of underwear have been shipped by CHW to their projects in Northern Malawi.
Thank you to all those nurses who participated!! Your efforts have allowed one secondary school girl to attend school for 1 year! She is one step closer to achieving her dream of attending university!