Volunteer with Change Her World
Sewing Project : Re-usable Sanitary Protection
Each year CHANGE HER WORLD ships hundreds of re-usable sanitary protection kits as part of the work we do to help girls attend school regularly.
A full kit contains: 2 cotton shields, 8 flannelette liners, and a washcloth in a Ziploc bag – all inside a cloth drawstring bag which she can use to transport these items to school.
We are also happy to accept just 2 cotton shields & 8 flannelette liners in a Ziploc bag.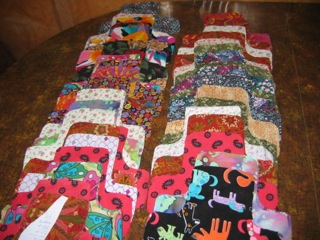 The PUL fabric acts as a moisture barrier and is available at Fabricland.
For further information please call 519-271-5598
Volunteers Needed!
If you want to be kept up-to-date with CHANGE HER WORLD volunteer needs, sign up for our Mailing List and select "I want to Volunteer"!
If you would like to volunteer to be a drop off location for Collection Campaigns in your community, please contact Linda Willis call (519) 949-0086 or fill out this online form:
---