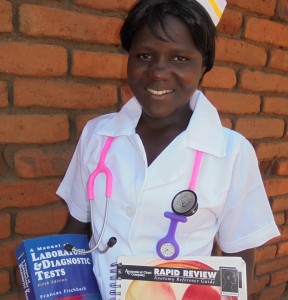 Sellah is a young woman who was in danger of losing her Form 3 year due to the fact her mom was ill and no longer able to work and provide funds for Sellah's school fees.
In April of 2011, the Project Committee in Malawi made us aware of this situation and ask for our intervention although our plan was not to formally begin the charity work until September.
Sellah's mom was very worried about her daughter's future and even asked if we might bring Sellah back to Canada when we visited in 2011.
Today Sellah is beginning the third year of a five Nursing and Midwifery program and doing very well.
All who support her are very proud of her ability and determination to become a nurse and make a difference in the lives of the people in her community.