A Personal Encounter with a Nursery School in Malawi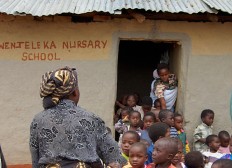 During our time in Malawi, we had occasion to travel to the outlying areas and visit very rural communities.A nursery school was the focus of one such visit. This nursery school had been set up primarily as a way of ensuring that the children had at least one nutritious meal a day. The AIDS program, provided the food. The mothers of the children came to the nursery school mid-morning to do the preparation. The meal is essentially ground maize but ground soybeans had been added to provide protein.
As I peered into the door of the nursery school, it took a few minutes for my eyes to acclimatize to the darkness. The room was very crowded with small children sitting wall to wall and some who had never seen a white face started to cry! How badly did I feel?
There was not one resource in that room. They sat on a dirt floor with not a scrap of a picture, toy or any learning or teaching material. The learning was by rote and they demonstrated very well their ability to count to ten and indeed, to sing the alphabet as children in Canadian nursery schools or kindergartens might do.
The children were led out into the little courtyard where the fires were burning and as the smoke stung my eyes and the food was cooked, the scene before me felt very surreal. I thought about the over -abundance of toys, books, computers and trained staff in our nursery schools back home. The children all washed their hands with water poured over them by the moms and they began to eat what may have been their only food for the day.
This is nursery school education in rural Malawi in an area with a very high rate of HIV/AIDS.
.